Thinking about your Generational Wealth?
It all starts with your monthly budget.
We can coach you through successfully managing your money, including your debt and savings, or you can simply outsource the task to us.
learn more
Stay empowered and confident in your financial journey, learn more about money management and financial planning through our blogs, webinars and more.
learn more
Gain insights on how to optimize your financial strategy. Complete this self assessment to determine the strength of your current financial plan.
start assessment
Client Progress Monitoring

Certified Public Accountants

I would tell anyone to use the Powerful People Plan for your
financial goals...
Anita was able to help me get on track and pay off 3 accounts and get a new home in the process. She is amazing and wants you to succeed!
- Venicia Ingram

Anita is amazing! She's warm, inviting and not judgmental
She makes it easy to share and provides tailored support! Her patience is remarkable and the results are a game changer! Feels so good to have my finances under control and a new perspective on debt and financial freedom! Thank you, Anita! You changed my life and allowed me to create a better future for my family!
- Dawn Cook

Thank you for helping me
I wanted to learn to do a budget and she taught me how to do it. I can count but no one ever showed me how to do a budget. I tried to Google but there is so much information out there. Coach Anita was patient and she was kind. She went at my pace. I had a lot of questions but she never made me feel like I was a bother. I'm thankful for her. If you need someone to show you how to create a budget, you should hire Anita. She is worth every penny. Better than Google.
- Johnnie Bing

Anita listened very carefully to our needs
After working with her, I have so much less anxiety about preparing for retirement while being self employed. I greatly appreciate her help, will call her for any further concerns, and highly recommend her to anyone seeking financial guidance.
- Martha Taplin, Piano Studio

Working with Powerful People Plan changed my life.
I'd gone through years of financial struggle and had very little financial literacy. After our initial conversation, I was totally in, but knew it would be a sacrifice. EVERYTHING she told me to do, I DID! And it made a difference. I am far more responsible with my money habits, and I have a greater understanding of how my moment of discomfort will set me up for a prosperous future! Within our time together I was able to pay off my credit card, raise my credit to Good standing, and now I have paid off my second car!! My dreams of becoming debt-free at 33 are coming true! Thanks to Anita and Powerful People Plan
- Elycia Denine
Launched in 2008, Powerful People Plan (P3) is a financial consulting practice that provides solutions to help clients create and manage their monthly budgets
Black woman owned and led, P3 originally started to provide tax, budgeting, and GPA calculation services to University of Michigan students for $5 each. Although the offerings have evolved over the years, the passion for serving by providing financial solutions to those in need has never faded. P3 continues to work to reach first generation wealth builders, with a special heart for busy black women, who may not have been equipped by their parents or grandparents with the financial literacy to manage money successfully.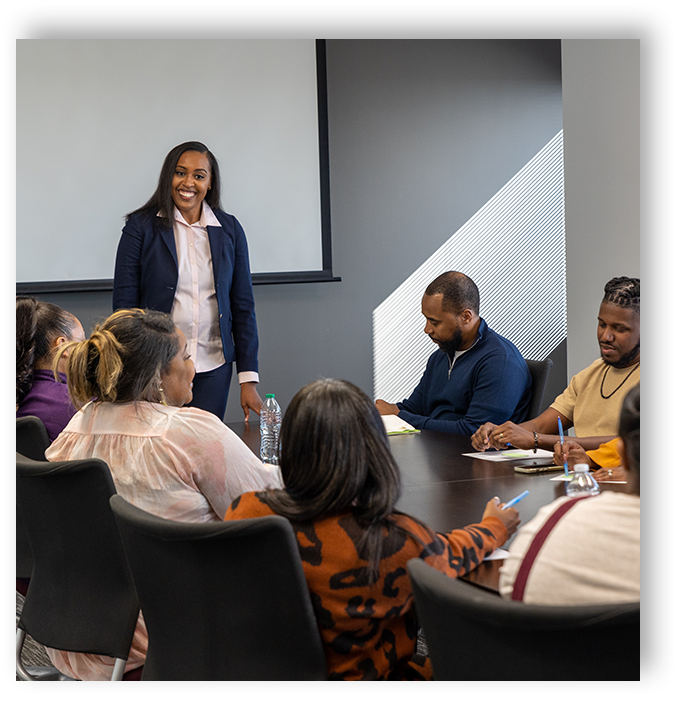 Determine the Strength of Your Financial Plan